Colorado businesses are more concerned than ever with maintaining a healthy environment for their employees. One way to promote wellness in the workplace and keep your employees happy is to install a Follet ice maker in your breakroom. Why can this simple act make such a difference?
Just imagine waiting your turn to get ice from the trays in the fridge or from the ice bin, when you notice the person in front of you digging in with dirty, bandage covered fingers, or (gasp!) scooping ice out with their already used glass or coffee-stained cup. Even those of us without a phobia of germs find ourselves cringing at that thought!
The best way to fully protect against cross-contamination of ice is with a self-sanitizing ice maker from Follet.
Choose A Top Quality Ice Maker In Your Breakroom
Many companies along Colorado's Front Range provide ice makers in their breakrooms as part of their intangible employee benefits. The cost is relatively inexpensive, and, along with well-stocked coffee service, is a perk that many employees truly appreciate. But, the value is only there when the ice maker is working, and that is why it is so important to select a top-quality machine that doesn't encounter maintenance problems for your Colorado Springs break room.
At Colorado Pure, we understand that keeping your employees happy and healthy is the cornerstone of your successful business, and we take pride in supporting you to achieve that goal. That is why we offer Follet Ice & Water machines (including the Symphony line of Ice & Water Dispensers). These top-quality machines cover the entire range of needs for any office or facility and will work reliably for years without problems.
You Might Enjoy:  The Effect of Employee Breaks on Productivity Levels
Great Features of Follet Ice & Water Machines
Follet Ice & Water machines come in three configurations: counter-top, under-counter, and freestanding, and are the perfect ice maker in your breakroom. Some units can even be mounted to a wall if needed. But the options for placement are just beginning. Here are some of the other reasons we love Follet Ice Makers for breakrooms:
Drainless
While our expert installers will ensure the ice machine is connected to a water supply, providing a drain for melting ice can be problematic, especially if the unit is located in the middle of a large office space. However, Follet has combatted this issue by equipping their ice machines with a large drainage tray which automatically alerts users and stops the machine from dispensing when it's full. Empty it and it is right back in action.
Perfect Size
The 7 Series model stands only 17½ inches tall which is perfect for a standard cabinet installation of 18 inches above the counter-top. The internal reservoir holds 7 lbs. of ice, which is sufficient for 25 to 30 people.
The 15 Series model, at 22½ inches tall, has a 15-pound reservoir which is adequate for a group of up to 50 people.
With the built-in capacity to produce 100 pounds or more of ice every day, you need never worry about running out of ice before an office pot-luck or an important client meeting.
If neither of the above models fit the needs of your Colorado Springs or Denver office, we recommend Follet's Symphony Series Ice Makers & Water Dispensers.  With four models providing 12, 25, 50, and 90 pounds of ice storage, this series covers the rest of the range of sizes needed in most environments.
Sanitary and Antimicrobial
No contact is made with the ice until it is dispensed, so it's always clean and sanitary. Instead of an open bin, ice or cold water is dispensed via a touch-sensitive button.
More importantly, these machines utilize Agion® antimicrobial technology (approved by the EPA, FDA, and NSF). Just like the examination table in your doctor's office, key ice and water contact components are infused with Silver Ions which are toxic to microbes.
But, our favorite feature of these machines? The actual ice itself.
Related: 4 Benefits of Point-of-Use Water Coolers for Offices
Chewblets™
Ice comes in three forms basically: cubes, flakes, and nuggets. Cubes are energy-intensive to manufacture. You need a lot of cooling capacity (and energy) for a long period of time to make cubes. Worse yet, to release the cubes a heating cycle is required, wasting even more energy.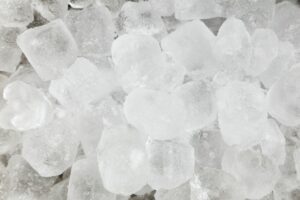 Flakes are somewhat easier and require less power. Unfortunately, they melt too quickly in beverages, diluting the drink.
Nuggets, such as our customer-favorite Chewblet™, are made with frozen and compressed flake, which squeezes out unfrozen water, making a durable nugget with a high cooling capacity, but with only one-third of the water and one-half of the electricity required for making a cube in a typical under-counter bin-type machine.
Good Looking and Quiet
Follet Ice Machines will fit into just about any office décor with their attractive brown, gray, or chrome finishes. Even better, unlike competing units, these machines have a quiet harvest. No constant clattering crash as the ice cubes drop down from the molds. You'll hardly know this unit is operating!
If you prefer the free-standing cabinet design, the top of the unit can support up to 35 pounds. It's the perfect place to keep your coffee brewer and saves you even more counter space.
Colorado Pure: Providing Superior Breakroom Supplies and Service
Providing your employees with superior quality breakroom supplies, including pure and refreshing ice at the touch of a button, will not only improve your office morale but can also improve the overall health of your company.  Colorado Pure is proud to be the premier distributor of Follet Ice & Water Dispensers in Southern Colorado.
Contact us to schedule your free in-office consultation, and upgrade your breakroom today!