Do you want to shake things up around the office with summer team building activities to energize and motivate your employees? After a long Colorado winter, employees and business owners are itching to get outside and enjoy fresh air and sunshine.
But often, the very thought of another company picnic fills employees with dread thinking about awkward conversations and unorganized ball games.
How can you combat this fatigue? With these new summer team building techniques.
Summer Sports Leagues
One of the most fun summer team building activities involves a little sweat, a healthy dose of competition, and a whole lot of fun with your co-workers. Sign up for a recreational summer sports league through your local Parks and Rec Department. For instance, Colorado Springs Parks and Rec sponsors team sports throughout the year, but summer offerings include softball, volleyball, basketball and flag football.
Encourage your employees and managers to sign up by providing incentives like a free team t-shirt and supplying water and snacks at the games. Before you know it, the "team" will be hanging out in the breakroom, talking about the last game, sharing a laugh and some serious bonding!
Outdoor Adventure Parks
There is something about seeing your manager screaming as they rush down a zip-line that brings a smile to even the most skeptical employee's face. Outdoor adventure parks can be a great leveling field for co-workers as they conquer their fears, boost their confidence and learn more about each other.
If an adventure park is outside your fiscal budget, create your own at your local park. Your company picnic will never be the same!
Trivia Hour
One summer team building idea that we love is a regularly scheduled trivia hour. Many Colorado companies are winding down on Friday afternoons, and the joyful spirit of employees looking forward to the weekend can bond your team. Encourage your employees to shake things up by creating a team with various departments, and let the fun begin!
And rather than keeping this indoors where there are work distractions galore, move the game outdoors so that your employees can relax and enjoy the beautiful Colorado weather.
Volunteer Together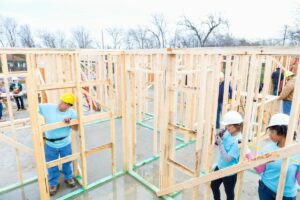 From charity walks to soup kitchens, volunteering in your community is a great way to build a bond between you and your co-workers. Many worthy volunteer opportunities exist in Colorado Springs, Denver, and surrounding communities.
One very successful way to ensure participation in volunteer activities is to schedule them during work hours. We all live busy lives, and trying to fit one more thing into our tight schedules, even for a worthy cause, can be hard to manage. When you schedule these opportunities for times when your employees would be at work ensures that they do not have to take away from their families or other commitments.
Related: From Coffee to Collaboration: How a Great Break Room Can Transform Your Workplace
Downtown Restaurant Crawl
A restaurant crawl will bring out even the most subdued employees and is one of our favorite summer team building activities in Colorado Springs. Whether you sign up for an organized crawl, such as Rocky Mountain Food Tours or have a more relaxed, come-and-go-as-you-will atmosphere, your team will benefit from hanging out together in a fun, relaxed environment.
Book Club
A book club may not seem like a fun summer team building activity to some, but when you move the club outdoors, you may be surprised at the increase in participation. Have your employees stop by the breakroom before each club meeting to get a great cup of coffee or tea and a few snacks
Keep the reading list to work-related books, such as those about leadership, team building (of course!), or other professional development topics. This article from Freshbooks has some great ideas to get you going.
You Might Like: What To Consider When Setting Up An Office Coffee Station
Friday Team Breakfast
Why save your potlucks for holidays or cake for birthdays? A team breakfast can do a lot for your camaraderie in the office. Start with a great cup of coffee from your bean-to-cup coffee machine and then include pastries, breakfast burritos, sandwiches, or, if you are feeling especially adventurous, set up a waffle or crepe station.
Encourage your employees to avoid scheduling meetings during this time, and set a strict no-work-talk policy during breakfast. Talk about your weekend plans and enjoy each other's company in a relaxed atmosphere.
Summer Team Building Starts in the Breakroom
When you partner with Colorado Pure for office coffee delivery services and breakroom solutions, summer team building does not have to be complicated. Showing your employees that you care can be as easy as a purified water dispenser or a delicious cup of coffee or tea to start their day.
Colorado Pure knows how important your employees are to your business, and we are dedicated to helping you keep them happy and productive through our office coffee delivery services.
Schedule your free consultation and to see how we can help build your team, one cup of coffee at a time.