Do you include the many benefits of point-of-use water coolers when you think of the many office amenities available to your Southern Colorado workforce? If not, there are good reasons why you should. 
Colorado is famous for pure mountain streams and fresh air. But the drinking water available from the tap in many Colorado Springs and Denver office buildings is tainted by old pipes and harsh chemicals that can alter the taste of the water and introduce toxins into our bodies. 
Knowing this, many businesses have opted to provide clean, great-tasting water for their employees via point-of-use (POU) water coolers. Let's consider just four of these benefits.
Encourage Employees to Stay Hydrated and Healthy
One of the most significant benefits of point-of-use water coolers is the effect on your employees. Easy access to great-tasting water keeps employees hydrated, and hydration is a crucial component to productivity and focus at work. The National Council on Aging found that even mild dehydration can lead to a lack of memory, concentration, and productivity.  
POU water coolers can also benefit your employees' health in other ways. For instance, Colorado Pure is proud to offer our clients cutting-edge technology from Brio, Follett, International H20 and Wellsys. One of our favorite lines is the Wellsys™ line of water and ice dispensers, which all include a nine-stage water purification system. It not only adjusts the pH balance of the water but, in a special end-stage, restores the missing minerals to make it as healthful as possible.
So, do you want to increase your employee's productivity and health? Installing a POU water dispenser is a great first step. Human nature is what it is. The easier the access and the better tasting the water, the more we drink. The more water we drink, the better we feel, and the more time we spend doing the things that matter.
More on Purified Ice Makers: Promote Employee Wellness: Install A Follet Ice Maker In Your Breakroom
Limitless Access to Clean Water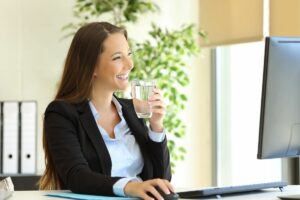 Another of the benefits of point-of-use water coolers is limitless access to clean water. No more running out of 5-gallon bottles of water a week before the next scheduled delivery. No more time waiting for the one person in your office who can lift the heavy bottle, flip it over, and place it on the dispenser. 
Instead, you have instant access to hot, cold, and room temperature water with the touch of a button. 
Easy to Clean and Maintain
Thanks to the COVID-19 pandemic, Coloradans have become hyper-aware of germs and contaminants lurking on most surfaces. Google searches for office products with antimicrobial properties skyrocketed during the past two years. 
At Colorado Pure, the POU purified water dispensers we install and maintain in Colorado Springs and Denver businesses utilize one-touch surfaces that are antimicrobial by design. This means that outside of occasionally wiping down the outside surfaces, the buttons and exposed surfaces on the water cooler will not harbor germs.
Additionally, POU water coolers are essentially maintenance-free. The filters last for six to twelve months and alert the user when the filter needs replacement. When you call Colorado Pure to replace the filter, we will also do a deep cleaning on the system, ensuring that it stays clean and well maintained for years to come.
Related: Benefits of ActivePure Office Air Purifiers in A Post-Pandemic World
Reduce Plastic Waste
Did you know that a 5-gallon water bottle can take up to 450 years to decompose? If you are concerned about improving the sustainability of the beautiful state we live in, you are likely taking steps already to reduce, reuse and recycle whenever possible. Installing a POU water dispenser can reduce your carbon footprint by reducing the number of plastic bottles in landfills every year.
In addition, the intelligent, microprocessor-driven system in point-of-use water coolers even saves energy by putting the hot water tank into "sleep mode" when demand is low. That helps you keep your carbon footprint and environmental impact as small as possible.
The Benefits of Point of Use Water Coolers Do Not Stop There
There are many tangible and intangible benefits to installing a POU water cooler system in your Southern Colorado business. If you are ready to take the plunge and ditch the plastic bottle, contact Colorado Pure to schedule a free in-office consultation.