As the status of COVID-19 shifts from pandemic to endemic status, Coloradans are emerging from this era of uncertainty with higher standards for our health. And ActivePure office air purifiers are quickly becoming the new gold standard for our places of work.
Do you remember the SARs outbreak or Swine Flu? Other parts of the world have dealt with pandemics in the past, but it took COVID-19 to bring home the reality of airborne pathogens to most U.S. citizens. With that realization has come a greater responsibility to ourselves and our employees to keep them safe and prioritize the health of all of us.
One place you can support your employee's health is by improving the air quality in your break room by installing an ActivePure air purifier.  Let's look at the benefits.
Proactive Peace of Mind
The benefits of ActivePure office air purifiers are many and varied. But one of the biggest advantages of providing this technology to your employees is the peace of mind it brings.
The science behind ActivePure technology has shown a 99.99% effective rate in destroying pathogens in the air and on surfaces. Notice that we say destroying, not neutralizing. How is this possible?
ActivePure office air purifiers continuously supercharge submicroscopic particles. These ionized particles are then deployed into the air at a tremendous rate of speed of 1200 feet per second, where they go on the offense, piercing the shell of airborne pathogens and destroying their living environment, rendering them completely harmless.
Because ActivePure uses the law of gasses, the ionized submicroscopic particles are able to penetrate every nook and cranny in your office, and can even penetrate fabric to provide a healthier environment. All with the push of a button.
Applications of ActivePure Office Air Purifiers Extend Beyond the Pandemic
The fact is that we do not need a pandemic to understand the need to safeguard ourselves against viruses and airborne pathogens. If you have ever worked in an office with a co-worker that has a cold, you know how contagious those germs are, and how quickly they can spread through your business and ruin productivity.
However, businesses with ActivePure office air purifiers don't have these issues. Break rooms can return to the safe haven they should be, a place where you can eat your lunch or enjoy your office coffee delivery service without fear of getting sick.
For many in Colorado, the Spring season means one thing. Allergies. ActivePure office air purifiers can prevent allergies by actually removing the allergens from the air. No more dust, dander, mold, or other allergies taking their toll on your workforce.
And the applications of ActivePure office air purifiers don't stop there. The difference this science can make for workers with chronic respiratory conditions and asthma is unparalleled. This is one reason why The Cleveland Clinic has installed ActivePure in ICUs and break rooms throughout their hospital, and why more businesses are choosing healthy, pure air every day.
Related: Promote Employee Wellness: Install A Follet Ice Maker In Your Breakroom
Do ActivePure Air Purifiers Dry Out the Skin?
Dry skin is a real concern in Colorado's low humidity climate. Luckily, the technology in ActivePure office air purifications systems does not lower the humidity in the office and therefore does not promote skin dryness.
The ActivePure systems are designed to reduce pollutants and excessive dust, pollen, pet dander, and the like in the air. The system does not impact the humidity of your indoor office spaces, which is good news for employees or visitors dealing with dry skin. On the plus side, employees with oily skin will have fewer airborne particles in the workspace to stick to their skin.
NASA Approved Technology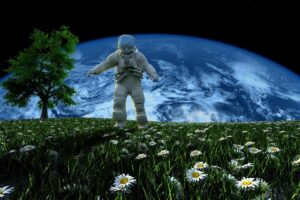 In the early 1990s, NASA was searching for technology that would allow astronauts on the STS73 mission to grow plants in space. Because of ethylene gas build-up around plants, researchers were seeking ways to "scrub" the air, cleaning it and providing purer air for growing life-sustaining plants in the vacuum of space. As a result, the science behind ActivePure was born.
In 2017, ActivePure was inducted into the Space Technology Hall of Fame. Their mission is to recognize technologies, organizations and individuals who have "transformed space technology into commercial products that improve the quality of life for all humanity." This incredible distinction is shared by less than 100 technological breakthroughs!
Did you know? The distinguished organization behind the Space Technology Hall of Fame is The Space Foundation, located right here in Colorado Springs!
Learn More About Colorado Office Air Purification
Imagine, the same applied science that keeps astronauts breathing easy in space is available for your Southern Colorado business! If you would like to know more about ActivePure air purification systems and the difference they can bring to the health of your employees, contact us today for a free air purification consultation.