If you are seeking ways to jumpstart your Southern Colorado employees after over a year of working remotely, consider what meetings you can have in the break room instead of the board room.
When you look at your calendar every day, are you quickly overwhelmed by the number of meetings you have scheduled? You are not alone. Since the COVID-19 pandemic hit Colorado in March of 2020, the number of meetings on our daily calendars has increased dramatically. Without interacting face to face informally, we had to turn to scheduled, agenda-focused cyber discussion. However, as Colorado businesses return to work in person, the number of these formal meetings has not decreased. Are you tired of the formality and rigidity of the board room? We are here to help with three types of meetings you can have in the break room.  
Brainstorming Sessions
According to Forbes magazine, brainstorming sessions can be especially productive when held in an uncluttered environment with several small tables rather than a long conference table. There is something about being trapped in a meeting room that saps creative juices. However, by taking brainstorming sessions into your break room, stress and tension melt away. As employees feel free to move around, refresh their coffee or tea, and even sit on the table, they will loosen up. Ideas will flow more freely, and even the timidest personalities will be more likely to share their thoughts.
Another tip from the Forbes article mentioned above is to make water, coffee, tea, and even snacks available to your employees during the brainstorming session. If you are feeding their appetites in addition to their imagination, what better room to have a brainstorming session than the break room?
You Might Enjoy: 8 Healthy, Delicious Break Room Snacks Your Company Needs
Quick Project Status Updates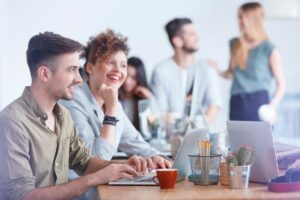 Quick project status updates are one of the best meetings you can have in the break room. Instead of a formal meeting that makes employees feel put on the spot for status updates, the more casual atmosphere of the break room will help employees share challenges, solutions, and even the dreaded "no-progress-to-date" update.
Additionally, have you ever noticed that right before and right after a formal status update meeting, very little work gets done? Workers are either stopping at the break room, the restroom, or the hallways and front desk to chat. By holding these meetings in the break room, you are streamlining the entire process. Employees can refill their beverage of choice while having a quick non-work conversation, and then the status update can begin. Since they already have their coffee in hand from the meeting, they can return to their desks and ride the momentum that a quick project status update provides. 
Employee Recognition And Appreciation
After spending so much time working remotely, you may be in the habit of sending out emails or making a quick phone call to an employee to acknowledge their hard work. But don't mistake an email they can put in their file for personal recognition of their achievements and appreciation for their contributions in front of respected peers. 
In the article Why Employees Need Both Recognition and Appreciation, Harvard Business Review stated, "In simple terms, recognition is about what people do; appreciation is about who they are… And when we show appreciation to our colleagues, customers, managers, and partners, we're more likely to build trust and connect."
Acknowledging your employees can be the easiest and most rewarding meeting you can have in the break room. Because the break room is generally unseen by either clients or customers, the options for showing appreciation can range from a shout-out board to a pot-luck or dessert party in honor of the deserving individual. The important thing is to show recognition and gratitude in a setting that allows peers to interact professionally and personally. The break room is ideal for this type of meeting. 
When Not To Have Break Room Meetings
As you look at this list, you undoubtedly thought of many other types of meetings you can have in the break room of your company. But to make the best use of your break room space, there are three times during the day when you should avoid scheduling a break room meeting.
First thing in the morning. Holding a meeting during a time when other employees are dropping off lunches, gossiping around the office water cooler, and getting a cup of coffee is hardly productive. The constant distractions and interruptions are sure to derail your meeting.
Lunch hours. The break room is a popular landing place for employees seeking a break from their desks and thinking about work during lunch hours. Intruding on this time can reduce their productivity the rest of the day. 
End of the workday. This principle is similar to not holding meetings in the break room first thing in the morning. As employees leave for the day, they often stop by the break room to drop off coffee cups and water glasses and to pick up their lunch bags from the refrigerator, which can disrupt your meeting. 
Liven-Up Break Room Meetings Even More With Quality Coffee Delivery Services From Colorado Pure
No matter how many meetings you plan for your break room, however, no one will want to come if they are rewarded with inferior coffee, tea, water, and other break room supplies. At Colorado Pure, we understand how vital the break room is to your company culture. Since 1997 we have been providing Southern Colorado businesses with the services that make their break room a welcome haven for employees. Contact us today for your free break room consultation!
More From Our Break Room Beverage Blog:
Tips For Reducing Indoor Concentrations Of COVID-19
Employee Experience: Why It's Important and Tips to Create Positive EX