As the nation deals with another highly-contagious variant of the coronavirus, Southern Colorado residents are increasingly interested in reducing indoor concentrations of COVID-19 in their workplaces. While personal protective equipment like masks, hand sanitizer and disinfecting spray are absolutely invaluable to staying healthy, modern technology has given us new options that complement those standards. 
Active vs Passive: What's the Difference?
The difference between active air purification technology and passive air purification technology can be compared to the difference between going out to conquer the world and waiting at home for the world to come to you.
Office-sized, under-table portable air purifiers can be effective passive, non-intrusive combatants of allergens and viruses. Typically, air purification works by pulling air into a unit with a HEPA filter, bipolar ionizer, UV light, or other photocatalytic oxidation (PCO) mechanism.
As a passive system, traditional small air purifiers do an admirable job of reducing indoor concentrations of COVID-19. However, passive systems are unable to prevent viruses from contaminating surfaces, nor can they destroy the virus as it enters the air when someone coughs or sneezes. 
Active air purifiers on the other hand, aggressively seek and destroy pollutants in the air, such as smoke, allergens, and yes, even the virus that causes COVID-19.
So, if you are concerned with obtaining the highest level of protection from COVID-19 and other viruses, allergens and pathogens while sitting at your desk, enter the world of breakthrough ActivePure technology.
You Might Be Interested In: Benefits of ActivePure Office Air Purifiers in A Post-Pandemic World
How Does ActivePure Technology Work?
Put simply, air purifiers with ActivePure technology go on the offense to destroy pathogens and contaminants such as the COVID-19 virus in the air and on surfaces. 
How? By deploying what are essentially disinfection molecules into the air and on surfaces, reducing indoor concentrations of COVID-19. These molecules proactively seek and destroy viruses lingering in the air and on surfaces. Using the law of gasses, the molecules get into every nook and cranny of your office, leaving all surfaces clean and virtually virus-free.
But the best part of this amazing, cutting-edge technology is how fast it works. Recent scientific studies have shown ActivePure technology to be highly effective in combating the COVID-19 virus, finding that 99.96% of the virus was eliminated in just 3 minutes. You read that right. ActivePure goes beyond just reducing indoor concentrations of COVID-19, this technology effectively eliminates the virus from the air and surfaces.
No wonder ActivePure air purification systems are being used at hospitals such as Cleveland Clinic, State Capital buildings, Major League Baseball, and schools and universities nationwide. 
Portable Solutions For Cleaner Air
If you think that this phenomenal technology is only available by installation in your building's HVAC system, we have good news for you. ActivePure technology can now be found in a wide range of portable air purification units that fit easily under your desk or on your countertop. Here is one of our favorite products available to consumers seeking ways of reducing indoor concentrations of COVID-19:
Aerus Pure & Clean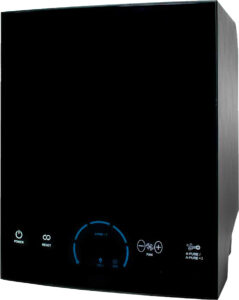 Using a modern combination of air purifying technologies, the Aerus Pure and Clean destroys over 99% of all surface and airborne contaminants in rooms from 500 s.f. up to 3,000 s.f. The Pure and Clean has also proven to reduce airborne contaminants and allergens that can trigger asthma and allergy systems, and even boasts the ability to remove odors and freshen the air without the use of ozone. 
Our favorite features of the Aerus Pure and Clean are a removable rear grill and a universal power supply that uses just 43 watts of electricity to power the unit (that's less energy than a standard light bulb!). And, the best part is that you won't have to wonder when to replace the ActivePure Cells that do all the heavy lifting, the easy-to-read LED display will tell you exactly when to call Colorado Pure for maintenance and supplies.
All this Covid-19 virus reducing technology comes in a small, portable design, measuring 11.75" H x 9.5" W x 10" D and weighing just 7 pounds. 
Colorado Pure: Southern Colorado's Source For Air Purification With Active Pure Technology
At Colorado Pure, we know from our own experience that Colorado residents want to return to something like normal as soon as possible, and reducing indoor concentrations of COVID-19 is the first step to getting us there. That is one reason why we are proud to be Southern Colorado's source for air purification systems featuring ActivePure technology. With small, portable air purifiers that fit under your desk or on your countertop, you can have confidence that you are doing everything you can to stay healthy in these uncertain times.
Contact Colorado Pure today for more information and for a free in-office consultation and quote.