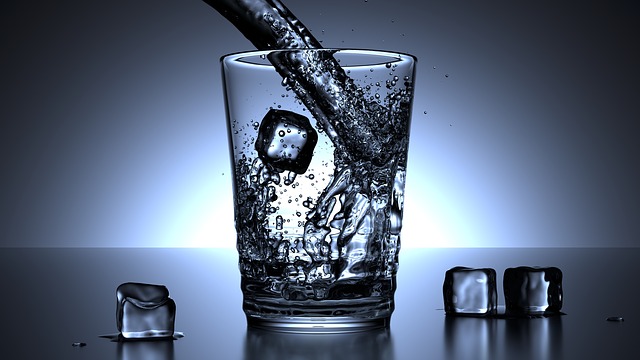 Bins are Out! Self-Sanitizing Healthy Ice Makers are In!
Dirty-handed, bandage-wearing people, dragging lipstick-smeared and otherwise filthy cups and mugs through the communal ice bin, put everyone else's health at risk. They fail to realize that their actions have real-world consequences for everyone else that uses the open ice bin.
Since there are no guarantees that you can get the cooperation of all your employees, the secret is to remove the site of contamination and replace it with something they cannot pollute within their carelessness.
Whether your staff needs relief because of a hot climate, or simply because the specific business environment you work in is hot, being able to obtain a good quality (and sanitary) ice is a huge benefit. When taking a break actually makes a difference, when it allows you to wind down and relax for a bit, it's just like installing a fresh pair of batteries. Soon people are ready-to-go again.
Many companies currently provide ice-service in their break rooms because it's very inexpensive for value received, and it is truly appreciated. Companies have also discovered that a failed ice-machine is a major cause of anguish. That is why it is so important to select a top quality machine that doesn't encounter maintenance problems for your Colorado Springs break room.
That is why we only offer the Follet Ice & Water machines (including the Symphony line of Ice & Water Dispensers). They can cover the entire range of needs for any office or facility, and they will work reliably for years without problems.
Great Features of Follet Ice & Water Machines
These machines come in three configurations: counter-top, under-counter, and freestanding. Some units can be conveniently wall mounted, depending on your needs. There are several excellent reasons to choose Follet for your Colorado Springs office ice maker.
Drainless
Getting water to the machine is relatively easy. Providing a drain for it can be problematic if it is located in the middle of a large office space. These units are equipped with a large drainage tray which automatically alerts users and stops the machine from dispensing when it's full. Empty it and it is right back in action.
Perfect Size
The 7 Series model stands only 17½ inches tall which is perfect for a standard cabinet installation of 18 inches above the counter-top. Its internal reservoir holds 7 lbs. of ice, which is sufficient for 25 to 30 people. Of course, the machine has the capacity to produce 100 pounds of ice every day so it will support that number of people all day long.
The 15 Series model at 22½ inches tall has a 15-pound reservoir which is adequate for a group of up to 50 people. One of the top features of these machines is the actual ice itself…
Chewblets™
Ice comes in three forms basically: cubes, flakes, and nuggets. Cubes are energy intensive to manufacture. You need a lot of cooling capacity (and energy) for a long period of time to make cubes. Worse yet, to release the cubes a heating cycle is required, wasting even more energy.
Flakes are somewhat easier and require less power. Unfortunately, they melt too quickly in beverages, diluting the drink.
Nuggets, such as our customer-favorite Chewblet™, are made with frozen and compressed flake, which squeezes out unfrozen water, making a durable nugget with a high cooling capacity, but with only one-third of the water and one-half of the electricity required for making a cube in a typical under-counter bin-type machine.
Sanitary and Antimicrobial
No contact is made with the ice until it is dispensed, so it's always clean and sanitary. Instead of an open bin, ice or cold water is dispensed via a touch sensitive button.
More importantly, these machines utilize Agion® antimicrobial technology (approved by the EPA, FDA, and NSF). Just like the examination table in your doctor's office, key ice and water contact components are infused with Silver Ions which are toxic to microbes. It's the same reason we use brass to make door knobs, because they are self-sanitizing, too.
Good Looking and Quiet
These units will fit into just about any office décor with their attractive brown, gray, or chrome finishes. Even better, unlike competing units, these machines have a quiet harvest. No constant clattering crash as the ice cubes drop down from the molds. You'll hardly know this unit is operating!
If you like to go for the free-standing cabinet design, keep in mind that the top of the unit can support up to 35 pounds. It's the perfect place to keep your coffee brewer, and saves you even more counter space!
Symphony
Symphony Ice Makers & Water Dispensers cover all the rest of the range of sizes needed in most environments. It comes in four models providing 12, 25, 50, and 90 pounds of ice storage. Countertop, wall mount, or free-standing models are available.
The Takeaway
Having an Ice & Water Dispenser keeps your employees happy. It's a simple and inexpensive way to safeguard their health. Happy and healthy employees are more satisfied and more productive.
Give us a call today at (719) 633-6887 and let's get your Colorado Springs office into a cleaner, healthier water, coffee, and ice! It's also a great opportunity to be environmentally responsible and reduce your carbon footprint. Do you have questions? Drop us a line at our e-mail address! We would love to hear from you.