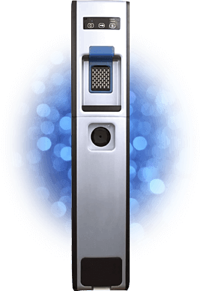 The number 42 was made internationally famous in popular culture by the author Douglas Adams. In his book The Hitchhiker's Guide to the Galaxy it was given as the ultimate answer to the question of Life, the Universe, and Everything.
For the rest of us, working in our mundane offices, it's the number 5 that really gets to us. Specifically the weight of a 5-gallon bottle of water. How many times have you struggled to pick it up from the floor, lift it into the air, and then tip it over and place it in the water cooler without making a terrible mess? Even once is too many, especially when there is a much better answer available.
Water On Demand
Bottles are a hassle. They cost a lot; they weigh a lot; they spill lot. If you're in a secure building, just getting them delivered can be a problem, and who knows if they're still clean (or if they ever were).
Not only do you have to store the heavy bottles prior to use, you also have to store the empty bottles until they can be picked up. If you're paying rent of $15/square foot for your office space, those 6 bottles that are always present, whether empty or full, cost you $75 in floor space.
Continuous Pure, Clean Water
We provide systems like the BEAM™ which is capable of providing impurity-free, highly filtered and great tasting, healthy cold water, room temperature water, or hot water up to 212° F. It conveniently fills personal water bottles, cups, glasses, and even comes with a built in cup dispenser for folks that don't have their own container, or simply visitors to the office.
The intelligent, microprocessor-driven system even saves energy by putting the hot water tank into "sleep mode" when demand is low. That helps you to keep your carbon footprint and environmental impact as small as possible.
Another excellent choice is the Wellsys™ line of water coolers which all include a nine-stage water purification system. It not only adjusts the pH balance of the water, but in a special end stage restores the missing minerals to make it as healthful as possible. We have the full line including the Wellsys 5000, 7000, 9000, 9000CT (countertop), and the 11000.
The Takeaway
The systems pay for themselves in reasonably short order, free up a lot of space, and consequently make your office a lot tidier. They are essentially maintenance free, working by touchpad or pushbutton, and utilizing surfaces that are antimicrobial by design.
Let today be the last day that you struggle with one of those ridiculous bottles. You probably have reasonably good water in your building that doesn't have to be delivered by a fuel-guzzling truck. It just needs a little filtering to be as fresh as a mountain stream.
Give us a call today at (719) 633-6887 and let's get you cleaner, healthier water delivered right to your Colorado Springs office, while at the same time we reduce your carbon footprint. Do you have questions? Drop us a line at our e-mail address! We would love to hear from you.