Smart business owners in Colorado's Front Range know that keeping their employees engaged and motivated starts with providing the very best coffee service available. If you find that your office productivity is starting to wane, providing employees with a great cup of coffee throughout the day can make a world of difference. But with so many options out there for coffee service, how do you choose the best one for your business?
Why Choose Office Coffee Service At All?
Before you learn how to distinguish between a coffee service that is just decent and the very best, you may be wondering what coffee service is and why you would choose this solution for your Colorado Springs or Denver office at all.
What is Office Coffee Service?
Office coffee distributors provide businesses with everything they need to give their employees and customers a great coffee experience. This starts with providing and maintaining both traditional and state-of-the-art coffee machines. These office appliances are cleaned and maintained during your regular coffee deliveries, and should the machine stop working, the solution is only a quick service call away.
Office coffee distributors also supply the very best coffee and tea options available, at the fraction of the price you can get yourself. If you want a specific blend or favor organic coffee and tea, all you have to do is ask!
What Are The Advantages Of Having Office Coffee Service?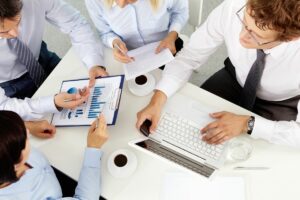 The two biggest advantages of providing coffee services for your employees are time and productivity. 
Imagine this scenario: You are anxious to start your day with a morning staff meeting. Before your employees appear at the office, much less the conference room table ready to go, they have to stop at a coffee shop along the way. By the time they get to the office and engage in morning chit-chat, your meeting and their day are already 30 minutes behind schedule. 
On the other hand, by providing coffee in the office that compares to that of the local barista, your employees come straight to the office in the morning. They have their morning 'how are yous?' in the breakroom, and show up at the morning staff meeting on time, ready to go. 
Add in that research shows that caffeine can boost memory and concentration, thus increasing productivity in those morning meetings, and you can see why more and more Colorado Springs and Denver businesses choose to provide exceptional coffee to their employees and customers.
You Might Like: Are Coffee Drinkers More Productive At Work?
How To Choose The Best Coffee Service
Now that you know WHY you should have office coffee service, here are 4 tips to finding the best coffee provider for your business:
1. Locally Owned 
By hiring a locally owned and managed coffee distributor to service your office caffeination needs, you gain customer service and flexibility that other providers just can't match. A friendly voice and fast, accommodating support will be just a phone call away. By keeping your coffee service local, you are also contributing to the economy of your own community, which is a choice all local business owners can appreciate!
2. Variety
Gone are the days when a single pot of Folgers or Maxwell House coffee served the needs of an entire office.  Employees and customers demand variety and brews personalized to their tastes.  Look for a coffee service that offers a variety of flavored coffees, teas, and other breakroom supplies that will satisfy even the pickiest individuals.
3. Latest Technology
It may be hard to believe, but yes, even coffee makers can have cutting-edge technology. Local businesses favor these machines:
4. Great Reputation
With so many coffee services out there, why content yourself with sub-par service and variety? By looking at unbiased customer reviews on sites like Google, you can find a coffee distributor that has a reputation for great customer service and reliability. 
Looking For The Best Coffee Service In Southern Colorado? You've Found It.
Locally owned and family-managed, Colorado Pure is proud to distribute the very best breakroom supplies and equipment to Southern Colorado businesses. Our coffee and tea menu features the most popular brands and brewing options including single‑cup, roast and ground, and whole bean. And with our reputation for exceptional customer service, you know that you are giving your customers and employees the very best cup of coffee around.
Contact us today to schedule your free coffee consultation and quote. 
Read More From Our Office Refreshment Blog:
5 Ways to Lower Stress in Your Office
5 Break Room Ideas to Improve Your Colorado Workplace
Why Switch To A Point-Of-Use Water Cooler For Your Colorado Springs Office